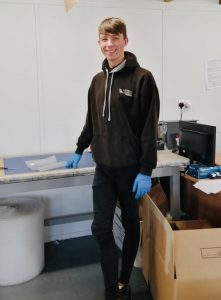 Elio has always been 'obsessed' (his expression) with aeroplanes. He grew up just a mile down the road from our HQ, and always had an eye out for his favourite machines.
Until recently our Gate Guardian was a Sepecat Jaguar, which now resides at the Bournemouth Aviation Museum on permanent loan. Elio remembers it well: 'When I was about 5 or 6, my Dad would stop the car whenever we were driving past so I could get out and have a closer look at the Jaguar. I was mad about planes as a kid, and have been ever since.'

Elio spent every weekend through his teens with the Air Cadets, using that experience to gain additional qualifications including a Level 2 BTEC in Aviation Studies. However, unsure that a career in the Forces was right for him, he gave us a call to see if there was anything he could do at Hayward & Green.
At the time we had no posts available, but we were really impressed by his dynamism and commitment. Elio started working casually once a week in the Stores, aiming to get a handle on the business and become familiar with the myriad parts which make up the aircraft he loves so much.
Like so many young people, Elio's final year of A Levels has been hugely disrupted due to Covid. We're delighted that we're now able to take him on full-time as a Stores & Sales Assistant, and he seems chuffed: 'I love it here, love working here, love the atmosphere! It's the perfect job for me right now.'
Elio turned 19 just last week! Happy Birthday Elio, here's to a long successful career in aviation.
Related News

New member of the team at H&G
We welcome Clive Lusted to the team at H&G
Read article

We're now an Authorised UK Customs Warehouse
We're a global importer and exporter of aircraft spares with over Read article