Air traffic is growing every year, putting ever-increasing pressure on existing ground-based radar ATC systems. Despite the challenges of slow economic growth and high jet fuel prices, some forecasts predict a doubling of global air traffic in the next 20 years; air traffic control systems therefore must adapt. Enter ADS-B (Automatic dependent surveillance – broadcast): the next generation of air traffic control, a mandate which any aircraft flying in the majority of the world's airspace must comply with by next year.
ADS-B is made up of two different services:
ADS-B out: broadcasts flight parameters continuously and more accurately than current primary and secondary radar installations, enhancing the situational awareness of air traffic controllers and aircraft in the vicinity.
ADS-B in: receives ADS-B out data from aircraft in the vicinity, and can also retrieve other data from ground stations.
ADS-B out enhances safety by making the aircraft visible in real time to air traffic control and other similarly equipped aircraft, providing essential flight information such as identification, position, altitude and speed. The system relies mostly on the avionics installed on the aircraft, which talk to antennas installed on the ground and relay / transmit the data retrieved.
Do we need it?
Our friends down under got ahead of the game, with ADS-B mandatory on any aircraft entering Australian airspace since 2013; the EU, US, UAE, China and Brazil have all made the regulation mandatory by 2020.
ADS-B affects aircraft registered in the affected countries as well as any aircraft entering the airspace – that's probably you.
The tech
The ADS-B mandate requires the aircraft to transmit its position within an acceptable degree of accuracy, which can be achieved by using a dedicated GPS receiver, a Multi-Mode Receiver (MMR) with a built-in GPS sensor, an ADIRU with a built-in GPS sensor – or a combination of the above (e.g basic MMR + separated GBAS/SBAS module).
Most commercial aircraft currently in service include an MMR which meets ADS-B requirements. However, we recommend upgrading to the latest standard MMR (3GMMR / IMMR), which not only exceeds the ADS-B mandate requirements, but also adds GLS capability and is compliant with FANS and RNP 0.1 mandates. This way the aircraft will be future-proofed for further regulations as our industry grows to meet the challenges of increasing air traffic.
The main hardware modification for ADS-B out compliance is in the transponder(s), as DO-260B compliance and more particularly extended squitter facility requires a full redesign of the unit.
The flight crew must be automatically alerted to any failure in the ADS-B out system by a dedicated annunciator – either a fail annunciator in the control panel, an EFIS annunciator or a combination of the two.
The wiring of the aircraft may also be affected, and would be looked at on a case-by-case basis.
How can H&G help?
Get in touch today to talk through your options with an expert! We keep large amounts of stock of the Honeywell TRA-100B transponders for both Airbus (Part number: 066-01212-0101) and Boeing (Part number: 066-01212-0301) fleets at all times. This means your aircraft will be out of action for less time, whether you choose to schedule the initial installations when the aircraft is undergoing planned maintenance, or if you need to act fast in the event of a unit failure.
Our warehouses are located a short drive from London's major airports, meaning we can have the unit on its way to anywhere in the world within few hours, and always at the most competitive prices in the market.
Furthermore, any customers purchasing this product line through us will gain access to our stock pool, giving you top rate follow up customer service and the best industry knowledge in the business.
We can cover virtually any operator's needs. Whether it's a basic installation to comply with the mandate while keeping costs to a minimum, or a whole navigation system upgrade to gain FANS and GLS capability, we've got you covered: we know which STC is right for you and can guide you through the process with full material support. Call us on +44 (0)1273 492237 or email sales@haywardandgreen.com today.
Related News

We're now an Authorised UK Customs Warehouse
We're a global importer and exporter of aircraft spares with over Read article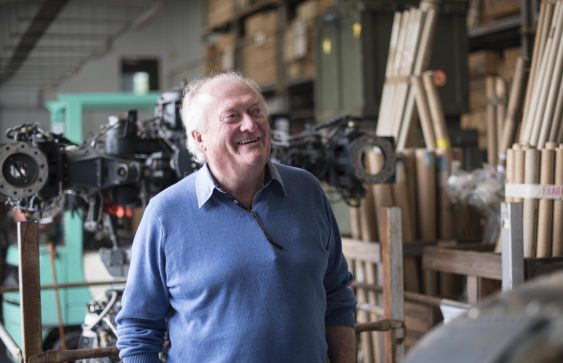 1969 - An Extraordinary Year for Aerospace
We're 50! This month Hayward & Green Aviation marks 50 years since the founding of our company. 1969…
Read article