Realistically, it's anyone's guess when commercial aviation will return to its pre-Covid19 status. We're working hard to keep to business as usual as much as possible; but with planes grounded all over the world, how can you keep your aircraft in optimum condition so that they're ready to take to the skies once restrictions start to lift?
Specialist coatings and wraps
The exterior of the  fuselage and wings of your aircraft all need protection. Continued exposure to UV and accelerated erosion and corrosion on aircraft parts due to environmental factors are two major problems. In addition, organic elements such as bird poo and insect build-up can cause extensive damage to paintwork. That's where PPG's range of temporary protective coatings come in.
Choose your option
Z6160 & Z6148 Peelable Preservation Basecoat System is the ideal solution to keep your livery at its best during this unavoidable downtime. Its sprayable, peelable preservation basecoat and topcoat have been formulated for the protection of painted surfaces.
ZR6375 and ZR6320 Temporary Protective Coating are chrome-free, water-based coatings created for the temporary protection of aluminium surfaces during operations such as roll forming, stretch bending, drop-hammer and riveting. They provide a tough, abrasion-resistant, transparent film, allowing any layout work which may be necessary during this period.
8340/2320 Temporary Anti Corrosion Coating is designed to protect individual aircraft parts in storage or during the assembly process. It's removable with the help of aqueous alkaline solution.
Contact us today to talk to a sales adviser about what might be the best solution for you.
Cover and Protect
All parts of the aircraft need looking after while they're on the ground. Next up, the engines. We can supply bespoke engine covers – front and rear – which stop debris accumulating inside the engines. We can also supply protective covers for the landing gear and under carriage covers, all made to measure. The engine covers feature an access panel for desiccant application, a clear window for identification of aircraft and are made from the highest quality materials with rigorous testing standards.
Stay safe and  get in touch for a quote today. Together we can make sure that, when the time comes, you're ready to fly again.
Related News

New member of the team at H&G
We welcome Clive Lusted to the team at H&G
Read article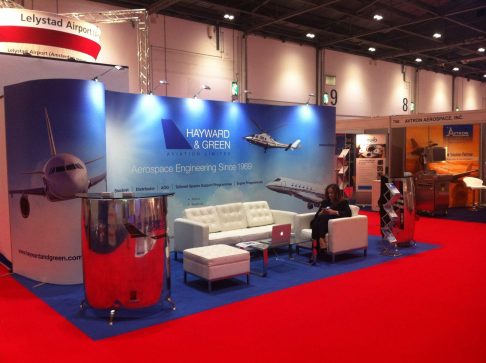 Hayward & Green exhibiting at MRO Europe 16-17 October
Hayward & Green Aviation are exhibiting at MRO Europe 16 - 17 October 2019. Email us to set up a meeting or drop …
Read article